Coolsculpting in Lakeland, FL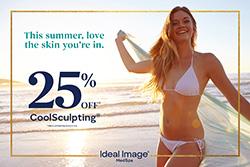 Frustrated by stubborn fat deposits in trouble spots like your thighs, abdomen, back, or buttocks? Sometimes, a healthy diet and regular exercise just aren't enough to give you the lean, sculpted look you want. As you get older, unsightly muffin tops, saddlebags, love handles, and other areas of the body can become nearly impossible to get rid of – no matter how much time you spend at the gym. At Ideal Image in Lakeland, FL, we offer a revolutionary new treatment designed to eliminate stubborn fat calls faster and more effectively than diet and exercise alone: CoolSculpting.
Experience the Benefits
FDA-cleared and non-invasive, CoolSculpting represents an entirely new approach to body contouring. Using a targeted cooling process, CoolSculpting works to target and destroy excess fat cells beneath the skin's surface. The result? A leaner, more sculpted silhouette with little or no downtime.
Don't let unsightly fat deposits keep you from enjoying the life you deserve. Call Ideal Image in Lakeland, FL to schedule your consultation and learn more about CoolSculpting.
Message Sent. Thank you for contacting us. We will be in touch with you shortly.
Send A New Message
Business Hours
8:00am - 5:00pm, Every Day